" We will create a better world
with a healthy and
convenient living culture "
Chief Executive Officer of Coway
Jangwon Seo
Established in 1989, Coway has been dedicated to researching and developing environmental solutions, particularly in personal health and wellbeing. Our unique competitive advantage is that we incorporate our high-tech products with an innovative and modern design, plus unprecedented service solutions that come with all products.
As a company, we will continue to grow together with society based on our spirit of challenge that has created and developed the market and our passion for making the world a better place. Coway's care will change the world of tomorrow.
Global Network
Our global networks span 5 continents with overseas subsidiaries and regional dealerships that serve over 40 countries. From July 2020, Coway Vina Viet Nam has officially established and become the 6th branch of Coway overseas.
Revenue
After 30 years of development, Coway continues to lead the market share in South Korea in each category – Water Filtration, Bidet System and Water Softener. Our sales revenue has also been climbing healthily year over year. A big thank you to all of you for making us the number one home wellness appliance leader.
Annual revenue
Unit: Billion Won
Business Area
Home wellness
appliances

Air purifiers

Water purifiers

Water softeners

Personal care
appliances

Bidet

Mattress

Garment cleaners

Massage chairs

Kitchen appliances

Water treatment

Supply of total water
treatmentsolutions

Cosmetics

Functional cosmetics
Oriental herbal cosmetics
Vision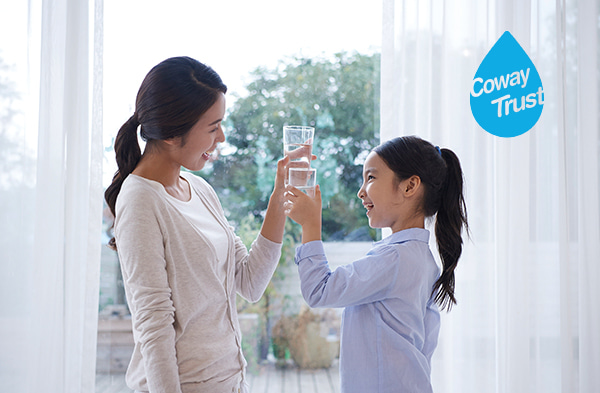 At Coway, we strive to make the world a better place, a cleaner place and a safer place.
At Coway, we strive to make the world a better place, a cleaner place and a safer place.
This is
Our vision, Our dream
and
Our pledge
.
Coway develops and applies a strict Code of Conduct, aiming to build a sustainable business environment and bring the best quality of service to customers. Coway's Code of conduct consists of its Ethics Charter, Ethics Regulations and Ethics Practice Guidelines.
Awards & Certificates
Brand awards
 

2020 CES INNOVATION AWARDS

5 consecutive years

Organized by American Consumer Technology Association (CTA)

 

2020 KOREAN INDUSTRY BRAND POWER (K-BPI)

Ranked 1st in the water purifier sector for 22 consecutive years,

ranked 1st in the air purifier and bidet sector for

18 consecutive years

Organized by Korea Management Association Consulting

 

2020 NATIONAL BRAND COMPETITIVENESS INDEX (NBCI)

12 consecutive years

Organized by Korea Productivity Center

 

RANKED 26TH IN 2020 BEST KOREAN BRANDS

Top Growing Brand Selection

Organized by Interbrand

 

2019 NATIONAL QUALITY MANAGEMENT COMPETITION

Organized by Korean Ministry of Trade, industry and Energy

 

2020 KOREA BRAND STAR

15 consecutive years

Organized by Brand Star

 

2020 KOREAN INDUSTRIAL PURCHASING CONFIDENCE INDEX (KPEI)

5 consecutive years

Organized by Korea Marketing Association

 

2020 KOREAN INDUSTRIAL BRAND POWER GOLDEN BRAND

Water purifiers, Air purifiers & Bidet

Organized by Korean Management Association Consulting

 

2021 KOREA FIRST BRAND AWARDS

7 consecutive years

Hosted by: Customers Council

 

2021 TOP 10 VIETNAM GOLDEN BRAND

Hosted by: Institute of Economics and Culture and CONPROCEN

 

2021 TOP 10 VIETNAM MOST TRUSTED BRAND

Hosted by: Vietnam Federation of UNESCO Associations and VUSTA-BEC

 

2021 TECH AWARDS

2021 Best Air Purifier Brand Award

Hosted by VNExpress
Quality Certifications
 

Water Quality Association Gold Seal Certificate

 

Specialty certifications for drinking water treatment units by the World Health Organization (WHO) Collaborating Center on Food Safety and Water Quality - NFS

 

Vietnamese standards for household water purifiers and bottled drinking water certified by Quality assurance and testing center 1

 

Collective Quality Certification System for Indoor Air Cleaner (CA Mark) by Korean Air Cleaning Association

 

BAF Allergy Inducing Material Removal Certification by British Allergy Foundation (BAF)

 

KOLAS International Authorized Testing Agency Certification